JUMPSUIT X JOSHUA TREE
If I could wear this outfit everyday I would. As I mentioned a few blog posts ago, I'm really trying to step my hat game up. It took me a little time to get used the size of the hat but I am IN LOVE with it now. Also, these pictures were taken at Joshua Tree. I am obsessed. If you haven't been - you must go.
Hat: Vintage Hatters
Jumper: Abercrombie & Fitch
Denim jacket: Windsor
Dress & boots
Hi guys! I went to Joshua Tree this weekend and wanted to share a few outfit details! This dress. Let me tell you… I've worn it many ways. Here, I wore it with chunky heeled military boots and used my hat as prop (but would wear it with this dress as an option for an accessory). In past times, I've worn this dress with thigh high boots and a leather jacket, sneakers, the list goes on. I love buying pieces you can wear a million ways!
Dress: Vici Collection
Boots: DSW
Hat: Vintage Hatters
Plaid out
Happy blog post day! Can't believe we're almost two weeks into January. I'm really excited to share these outfit details because you'd never guess where I got these pants! ABERCROMBIE. Right?! I went in there to look for a cream sweater and walked out with these pants. This preppy street style is something that I'm really into these days. I like mixing feminine pieces with edgier ones.
Jacket: Blank NYC
Pants: Abercrombie
Booties: Lulus
Top: H&M
New year, new hat
Well hello 2019! I hope everyone had a fun and safe holiday. I spent it with my family watching movies all day and eating Filipino food. YUM. Ok back to this look… LOL! I bought this hat back in November and it's definitely a new style for me but I love it. If you can't tell this hat is huge and makes a statement! This outfit would also be great for fall - since winter in Cali isn't as cold it worked for me here.
Hat: Vintage Hatters (Long Beach)
Sweater: H&M
Jeans: Asos
Sneakers: Bershka
3 winter outfit ideas
Hi guys! I decided to do something different and post a video of 3 different winter outfits. Winter for Cali people… not sure if these pieces would work well in actual cold weather. ;) Let me know which outfit you liked best in the comments down below! xo, P
OUTFIT # 1
White tee: Revolve
Black jeans: Topshop Jamie jeans
Blazer: Revolve
Booties: Steve Madden
Fanny pack: Target
OUTFIT # 2
Sweater: Nordstrom
Jeans: Asos
Booties: Lulus
Jacket: Nordstrom
Purse: Rebecca Minkoff
OUTFIT # 3
Dress: Lulus
Thigh-high boots: Steve Madden
MAD4PLAID
I LOVE these pants - they are comfy and stylish! For a casual look, I wore it with a plain white tee and vans. That is one of my favorite things about fashion - you can switch up your style! Some days I like being more girly and other days I like wearing more "men" inspired styles. Another great thing about these pants is that they can be worn for business casual. Wear it with your favorite black or white blouse and pumps.
White tee: Revolve
Pants: Bershka
Sneakers: Vans
Sweater weather
Bring out the layers and sweaters, it is actually getting cold in LA and I am STOKED. Mind you cold meaning it gets chilly at night… but I'll take it! I think a neutral colored sweater is a wardrobe essential especially if you live in colder weather. You can dress it up and layer it on top of a thinner top or with a scarf. I love wearing sweaters with jeans or my LuluLemon leggings for an athleisure look. Side note… my friend Josh (who also takes my pictures) says this is my "meet the parents look." So ladies… there ya go LOL.
Sweater/Belt: WhiteFoxBoutique
Jeans: Topshop
Mules: Steve Madden
Earrings: Target
Floral for fall
Now, I'm not usually one to wear floral AND pink but I love this dress. The warm tones and lightweight fabric make it perfect to transition into fall fashion. For all my business ladies this can be worn for work or the weekend. For work, I would pair this with nude pumps. For a more casual look, I wore it with my go-to leather jacket and white sneakers. I also threw up my hair for a couple shots and rocked my white sunnies for some "extraness."
Dress: Lulu's
Jacket: Blanc NYC (Nordstrom)
Sneakers: Bershka
Sunnies: Quay
FALLIN' INTO FALL
Since I live in Los Angeles we don't really get that fall weather... but that doesn't mean I'm not going to rock all the fall trends! I recently started adding more color into my wardrobe and this top definitely adds a pop. Plus, it's my favorite color so extra bonus points. With the deeper color and floral pattern I think it definitely says "fall." What are your favorite fall colors?
Blouse: Vici Collection
Jeans: Asos
Earrings: H&M
Heels: Steve Madden
jumpsuit goals
Ok, who else loves a good jumpsuit?! I own quite a few and this one has become my favorite. I've been wearing this one all summer and received a ton of compliments. I'm a jumpsuit over dress person because you can get down on the dance floor ;)
Jumpsuit: Forever21
Earrings: Target
Heels: Steve Madden
uh huh honey
This week I was so excited for my trip back home to the Bay Area. During my short weekend home I had my cousins 18th birthday party. In the Filipino culture the 18th birthday is a huge celebration. It is similar to a quinceañera! The party was in an Auto museum - so it was pretty fun dancing around a bunch of classic cars! I wore a fun "yellow-honeyish" number with statement earrings for a pop. Yellow and mustard have been my jam lately! What are some of your favorite summer colors?
Dress: Revolve
Accessories: Nordstroms
Heels: Steve Madden
My favorite Tee
This band tee is one of my favorite pieces in my wardrobe. I've been on a hunt for a similar one but have yet to find it! I wear this with anything and for any casual occasion.
T-shirt: Thrifted
Pants: Topshop
Heels: Lulu's
5 Summer must-haves
It is finally summer! I feel pretty spoiled living in LA since the weather is usually sunny and hot. But I am definitely excited to throw on some denim shorts and sandals. I am sharing my 5 summer must-haves for my first blog post. I excluded the usual summer things such as - denim shorts, flip-flops, and sunnies since I'm sure all you fashionistas have those in your wardrobe.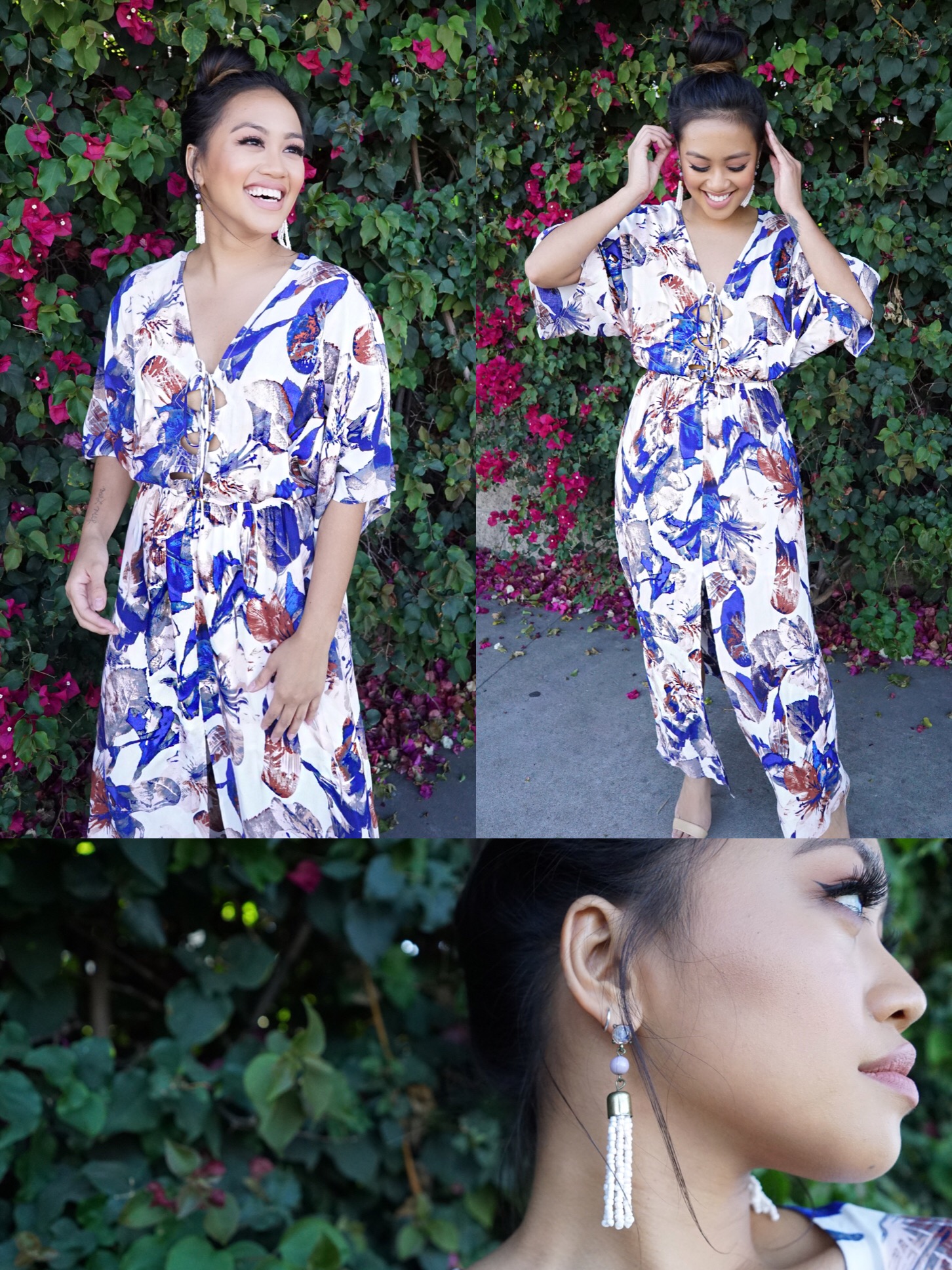 1. Floral print maxi dress
Now, I'm not one to usually wear bright colors and prints but this maxi dress stole my heart. I instantly loved the lace-up detail and how it added a bit of "edge." This beautiful dress is from Lulus and if you haven't heard of Lulus then click out of this page right now and go check them out! They are one of my favorite online stores. I paired this dress with nude strappy heels and these gorgeous tassel earrings. I wanted to be pretty minimal with my accessories since the dress does all the talking. This look would be perfect for a brunch day with the girls or a spring/summer wedding!
Dress: Lulus
Earrings: Target
Heels: Steve Madden
A chambray shirt is a timeless piece that will be a staple in your closet. As a stylist, I always send these out for spring or summer. But honestly, I wear chambray throughout the fall season as well. It has such a classic look and can be worn with any accessory. For that "coachella-ish" vibe I paired it with a bandana choker, white denim shorts, and black pointy-toed booties.
Chambray button-up & sunnies: H&M
Bandana choker: Joanns
Ring: Free People
Of course a bathing suit is a summer must-have! If you're like me you usually buy one at Target or Forever 21. But this suit right here, was an investment! I really wanted to splurge on a quality suit this summer. I went with high-waist bottoms to accentuate my waist and a bold color for a pop! Since I'm full Filipino I'm usually tan year around (don't hate me also shoutout to Dad for that brown gene) so I knew this bright red orange would look great with my complexion. I can't express enough how comfy this bathing suit is and even though it cost a pretty penny - I am so glad I bought it.
Bathing suit: L*Space
Sunnies: Quay
Earrings: H&M
4&5. Off-the-shoulder top and thick gold hoops
I'm hitting you with a two-in-one for my last two items! The off-the-shoulder top and thick gold hoops. This type of shirt is probably one of my favorite pieces for the hot weather. You can dress it up or down, for a girls day, or a date night! Here, I went for a more edgy look with the bold gold accessories and statement belt. I brought it back with the thick gold hoops since these are a "recycled" accessory from the 90s. I may be a little late on this trend but I am still rocking it because fashion has no rules! These hoop earrings will look great with a swimsuit, denim shorts and a tank... Basically anything!
Top: fashionnova
Necklace//Earrings: Gift from my mom//H&M
Belt: Whitefoxboutique
Booties: Lulus
Jeans: Asos